Troop Support
A care package is one of the most anticipated – and appreciated – gifts a Marine can receive while deployed to a combat zone. Coming back from two days in the field and finding a care package waiting can brighten a Marine's day or week, and from 2005-2015, we've shipped almost 40,000 boxes to troops serving in Iraq, Afghanistan, and Africa.
Since the terrorist attacks on September 11, 2001, for security reasons, we cannot, and do not, give out addresses of Marines stationed overseas. With the help of all our nationwide network of volunteers, we ship thousands of Care Package Project™ boxes each year. No matter where a Marine is stationed, a care package is a little piece of home, a little slice of America, a tangible reminder of the love and support people across the country have for our troops.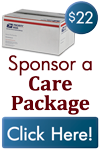 How You Can Help
There are many ways you can help us with our care package projects to benefit Marines overseas.
Join Us on Pack Day
Four times a year, we ship hundreds of care package boxes overseas, and we need 80 to 100 volunteers each time to help fill them.
www.CarePackageProject.com
Sponsor a Care Package
For just $22, send a Marine a package, which includes your name. Sponsor a package in someone else's name, or sign up for an ongoing sponsorship.
www.CarePackageProject.com
Donate Shipping Funds
We need thousands of dollars to ship boxes, and every dollar counts. Specialty campaigns include Girl Scout Cookies® shipping and our dollar drive
www.CarePackageProject.com
Hold a Drive or Fundraiser
Collect contents for packages or raise money for shipping. You set the parameters, and we provide advice, brochures, and posters.
www.CarePackageProject.com
Send "Dear Marine" Letters
Write cards and letters for Marines (those from schoolchildren are especially appreciated).
www.CarePackageProject.com
Request a Package for Your Marine
Send us the name and address of your loved one serving overseas, and we'll make sure your Marine receives a care package box.
www.CarePackageProject.com
Esprit de Corps
A MarineParents.com Care Package Project™ box is touched by literally hundreds of hands -- our volunteers' hands, your hands -- and each box we send contains the love and support of people from all walks of American life. Support from the mom who bought a toothbrush and toothpaste – then went back and bought 20 more sets. From the Boy Scout who organized a care package drive and collected thousands of items during his Eagle Scout Project. From the grandfather who set out a collection jar at his VFW hall. From the children who painstakingly decorated cards and wrote letters. From the Marine dads who fought in Vietnam or the first Gulf War and knew what Marines go through so they dug through their wallets and donated $20. Our volunteers are the backbone, the heart, and the soul of MarineParents.com. Thank you!